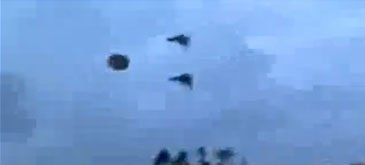 Two Fighter Jets Escorting UFO (August 2011) – Real or Fake?

Latest UFO video – This seems to be quickly making its way around the internet. I'd love to hear your opinions and thoughts on this one.
De ce oare toate aceste materiale video sunt realizate mai mereu cu ajutorul unui device care capteaza imaginile la o calitate indoielnica (jalnica?) iar cel care filmeaza are mana tremuranda?

Bonus: un material filmat – in urma cu 2 ani – in aceleasi conside descrise la inceputul postului :
i have recort this video while going for a long walk with my dog. i cat´n explain myself what was happened there. i was very surpriset. i didt´n expect to meet anyone, becorse it was in a afield wood.