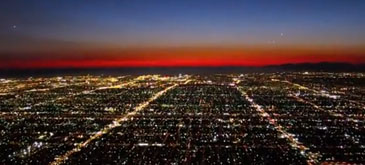 Landing at LAX International Airport via the SADDE Six Arrival.

The video is sped up to somewhere between Mach 1 and Mach 2. The original idea was to a) compress a 30 minute approach into three minutes; and b) to see what it would look like if you you were riding on the back of a cruise missile.
The camera was a Canon S95 which is a great pocket low light camera. This video simply wouldn't have been possible with any other pocket camera. If you want a great travel camera, be sure to check it out.
Atunci cand zburam cu avionul suntem cumva ingraditi de geamurile alea minuscule astfel ca nu ne putem bucura mai deloc de peisaje. Bine, cert este ca mai toate zborurile se petrec la o altitudine destul de mare ( ~10.000 metri) si singura satisfactie a noastra ramane in faptul ca putem sta deasupra norilor, loc in care ajungem cu greu si foarte rar. 😀
Imaginile de mai jos au fost filmate la joasa altitudine din carlinga unui Boeing. As asemana materialul cu cel filmat in Decembrie 2008 de catre un bun prieten, George – aveti aici link. In amandoua cazurile avem de-a face cu niste peisaje superbe.