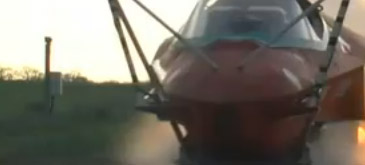 ….o sa ma fac pilot de teste pentru F-35 Lightning II.
BAE Systems has led a fully integrated industry effort to deliver a production standard escape system for the F-35 Lightning II aircraft. The F-35 escape system is used in emergency situations ensuring pilots can eject safely. It will be fitted to all 3000+ F-35 aircraft to be operated by Armed Forces across the globe.

The system has been tested to its limits as a full scale front section of the aircraft, complete with ejection seat and mannequin was launched at speeds in excess of 600 mph down a test track putting the escape system through its paces. More than 30 ejection seat tests were completed in the UK, France and the USA.