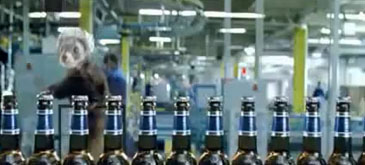 The first execution for 'Pioneering Beering' takes the form of a 60-second spot, shot by Emmy-winning director Tom Kuntz. It depicts a hyper-stylised Hahn Super Dry brewery where the 'superness' – represented by a series of unorthodox influences – is infused and brewed into the beer at every stage of its creation.

Client Lion Nathan
Agency Publicis Mojo, Sydney
Production MJZ
Country Australia
Uploaded 3 June, 2011
Am aflat astazi:
Update: Si daca tot suntem la acest capitol, daca cumva ati ratat ultimele reclame Heineken & Bavaria atunci nu stiti ce pierdeti.
[via bestadsontv.com, thx to mArS]