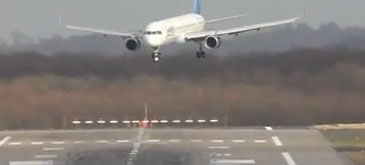 Crosswind Landings during a storm at Düsseldorf B777,767,757 A330 Sturm Andrea, (watch in HD)
Canon 5dII + Canon 100-400 + 1,5x converter + 2x converter which leads to a total focal distance of 1200mm. Excuse the vibrations.
Stau si ma intreb cum s-ar simti pasagerii care au zburat cu unul din avioanele prezente in montajul de mai jos, atunci cand ar privi imaginile acestea.
Oricum, felicitari pilotilor!