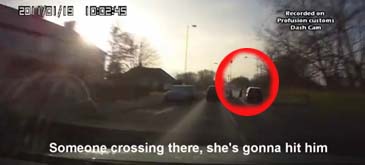 Warning viewer discrection advised. In January 2011 a hit and run driver was caught on vehicle dashcam hiting a 75 year old man knocking him to the floor, driver made no attempt to stop and was chased and caught a few miles away.
Astazi veti intelege mai bine de ce site-urile gen trafictube sunt bune la casa omului – ca sa zic asa. In imaginile de mai jos vom  asista la un  caz clasic de "Hit & Run". O soferita atrage atentia tipului de la volanul masinii care – observand numarul de reguli de circulatie incalcate –  intuieste  ca "ceva se va intampla!", asa ca porneste in urmarirea femeii. Nu trece mult timp si inevitabilul se produce: soferita loveste un batranel de 75 de ani si fuge de la locul faptei fara ca macar sa incetineasca.
Aceasta filmare a fost folosita in instanta, femeia a sustinut sus si tare ca ea nu a calcat pe nimeni. Asta pana in momentul cand politistii i-au aratat inregistrarea…..