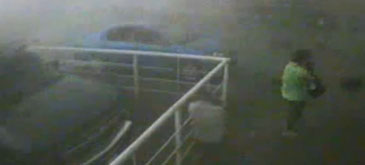 Hanging On For Life (Tushka Tornado)

Jason and Desiree Miller and their 2 small kids trying to get to the shelter when the Tushka tornado hits on april 14, 2011. They are blown into and grab on to the steel fence to hang on until the storm passed. Their jeep is blown over within a few feet of crushing them.
Jason si Desiree Miller sunt un cuplu de tineri cu doi copiii care au supravietuit tornadei Tushka, eveniment petrecut in luna Aprilie a acestui an. Camerele de securitate aflate in zona au surprins momentul cand cei doi, insotiti fiecare de catre un copil, sunt surprinsi de tornada tocmai in momentul cand acestia coboara din masina si se indreapta catre adapost. Imaginile sunt terifiante, ii putem vedea pe cei doi ghemuindu-se langa un gard, tinandu-se cu disperare de acesta in timp ce Jeep-ul lor este aproape luat pe sus de vantul puternic.