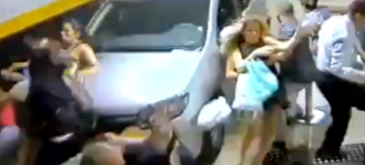 Woman crashes car into crowd in parking lot, kills two
Terrible accident leaves two dead and at least four injured when a woman loses control over her car and crashes into a group of people.
From Source:
Sao Paulo, Brazil.
Two women had died run over in the parking of the Salomão Temple, in the Brás, the Zone East of São Paulo, the end of the afternoon of this Sunday (16), according to Military Police. The accident happened when a driver made a maneuver in the place and lost the control of the car. At least four people had stayed wounded.
Iraci of Silva Fabri, 48 years, is reformed sergeant of the military police and stayed imprisoned between the car and the wall. She was brought to the hospital where her death was confirmed.
Rosemeire Rodrigues Gunter, 39 years, also stayed imprisoned between the car and the wall and died.
Trist.