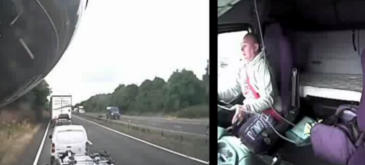 Driver using mobile phone kills family on A34
A 30-year old lorry driver has been sentenced to 10 years' imprisonment at Reading Crown Court today (31/10) after being convicted of causing the deaths of a mother and three children in a crash on the A34 while he was using his mobile phone
Mai jos aveti o campanie de constientizare ce ne demonstreaza cat de periculoasi sunt soferii care conduc si folosesc telefonul mobil in acelasi timp (fara handsfree, desigur). De data aceasta ne este prezentat un caz cutremurator:
Soferul a fost inchis pentru 10 ani. Putin….
thx to branco