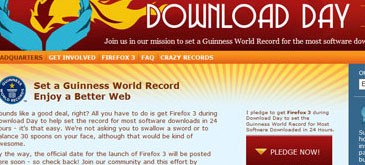 Join us in our mission to set a Guinness World Record for the most software downloaded in 24 hours!. All you have to do is get Firefox 3 during Download Day to help set the record for most software downloads in 24 hours – it's that easy.
Mozilla is aiming to make Firefox 3 a record breaker. It wants the next release of its browser to be the most downloaded piece of software in a single 24-hour period.
Download Day will begin the minute Firefox 3 is generally available and continue for 24 hours. The Download Day website is asking for people to pledge to download the browser and wants people to place Download Day buttons on their websites.
Mozilla are predicting that 1.6m people will download the browser on its launch day sometime in June. Firefox will be available from multiple locations. We must assume the bandwidth and server capacity will be in place to service the rush.


[via]
This post was written by bullets on May 28, 2008