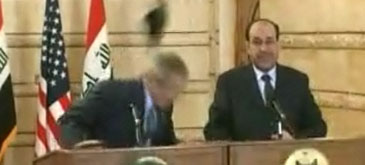 BAGHDAD — President Bush flew to Iraq on Sunday, his fourth and final trip, to highlight the recently completed security agreement between the United States and the country that occupied the bulk of his presidency and will to a large extent define his legacy.

But his appearance at a news conference here was interrupted by a man, apparently a journalist, who leaped to his feet and threw one shoe at the president, who ducked and narrowly missed being struck
Nu stiu de ce dar am presimtirea ca peste cateva zile o sa vedem si versiunea romaneasca a acestui mic icident: "Fostul premier Tariceanu a fost lovit de un papuc in timpul ultimei sale conferinte de presa prin care anunta succesele incununate de-a lungul celor patru ani de guvernare".
Desigur, cel ce arunca cu papucul fiind un om care a pus deoparte ban cu ban in ultimii doi ani pentru a-si cumpara masina visata si a carei taxa s-a triplat exact cand i s-a sculat premierului citroenist. Putem adauga  si faptul ca tintasul nu vroia sa-si faca credit din anumite motive.


[sursa]