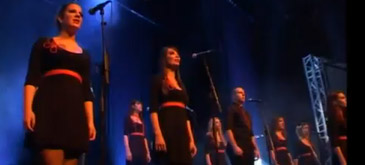 The Prodigy Mix (Out of Space, No Good, Smack My Bitch Up, Omen, Breathe, Firestarter originally performed by The Prodigy), performed by Viva Vox choir from Serbia, Belgrade, Zemun.
Live a cappella performance at Sava Centar, December 2011.
arr. Boris Balunović
conductor: Jasmina Lorin
Stiu ca v-a placut la nebunie varianta "Du hast" (a cappella) – a celor de la Viva Vox Choir. Dar ce parere aveti despre prestatia urmatoare (normal, fanii Prodigy inteleg despre ce vorbesc eu aici)?