"Get the awesome e-mail adress to fit your Selling needs of the phone that will change the world! i_sell_iphone[at]yahoo.com!!! After payment via paypal, you will receive an email with the information needed for your new email address (password, secret question answer, etc.)! Happy Bidding!"

Pentru toti vanzatorii de invitatii pe gmail (ce vremuri!!) fiti atenti: de acum ..exista o noua moda! Vanzarea de adrese de e-mail cu nume comerciale!
i_sell_iphone[at]yahoo.com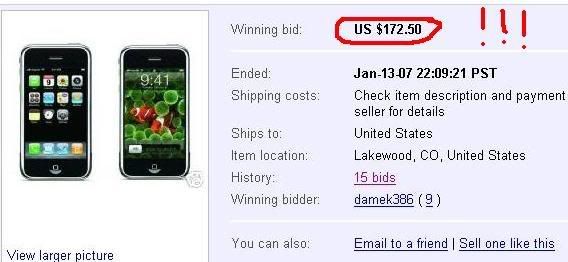 la vanzare s-au scos deja urmatoarele:
bestbuy_iphone[at]yahoo.com
i.seel.iphones[at]gmail.com
buyan.apple.iphone[at]yahoo.com
i-sell-iphone[at]hotmail.com
Asa ca ganditi-va rapid si concepeti alte adrese…. poate mai iese banu' cumva!
Good luck!