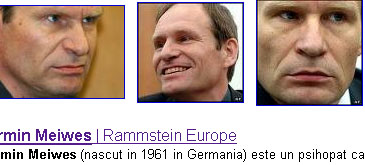 In primul sau interviu acordat unei televiziuni, germanul Armin Meiwes descrie gustul carnii omenesti, ofera chiar si cateva retete, descrie fascinatia sa pentru povestea "Hansel si Gretel" si insista asupra faptului ca el este o persoana cat se poate de normala.
Yeah right!
In 2002 a fost condamnat la inchisoare pe viata dupa ce a consumat 20 de kile de carne din Bernd Brandes, un om ce dorea sa fie mancat. L-a transat, l-a bagat in frigider si l-a consumat pe parcursul mai multor luni.
Puteti citi interviul aici sau aici (ca e voie).
Update: Am gasit un scurt metraj interesant facut de niste studenti. Subiect: a man who wants to be cannibalized.