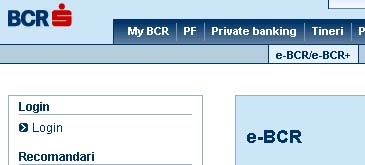 Te asteptam la ghiseul virtual BCR!
Poti efectua tranzactii bancare in maxima siguranta, de la orice calculator cu acces la Internet
Ai acces gratuit non-stop la contul tau bancar. De acasa sau de la birou, prin e-BCR poti transfera rapid bani dintr-un cont in altul sau poti plati facturile si impozitele, pentru care nu gaseai niciodata timp
Acces non-stop – vorba vine, de doua zile ma chinui sa accesez pagina (https://e-bcr.bcr.ro) si primesc mereu cate un:
The page cannot be displayed
Explanation: The Web server refused the connection, possibly because a service on the upstream server is inactive.
De cateva zile sunt foarte dezamagit de ceea ce vad in jurul meu, inclusi oameni, bloggeri, institutii..
Mi-e sila de viata in tara asta…..
Later edit: Nici posta romana nu e mai prejos:
Bad Gateway
The proxy server received an invalid response from an upstream server.
via VAXXi
P.S. Intr-o zi am sa va relatez mica mea ancheta legata de BCR, despre cum stiu ei sa "lumineze"clientul in legatura cu comisioanele . Aveam si niste poze dragute dar din pacate "mi-a murit" cardul din telefon. Dar sunt sigur ca la urmatoarea mea vizita, voi gasi totul neschimbat iar de data asta pozele vor iesi mai bine…