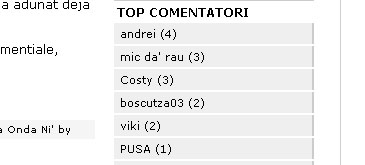 Encourage more feedback and discussion from readers, by rewarding them every time they post a comment! Readers with the most comments are displayed on your WordPress blog, with their names (linked to their website if they provided one).
Show Top Commentators este un plugin pentru platforma WordPress ce va genera un pic de interactivitate pe blogul vostru. Produce interes prin simplul fapt ca atrage comentarii din partea cititorilor vostri, acestia din urma fiind recompensati cu un link ce poate avea optiunea Nofollow sau nu. 😉 Cititorii cu cele mai multe comentarii vor fi afisati intr-un mini blogroll indiferent daca acestia au sau nu blog.
Mi se pare un plugin util si l-am instalat tocmai in ideea de a-mi recompensa cititorii fideli. Statisticile vor fi resetate in fiecare saptamana iar optiunea "NoFollow" nu va exista pe acest blog.
In caz ca nu aveti site/blog, de cate ori faceti un comentariu, puteti introduce in campul "website" si link catre fabrica de sunca a lu' tata, eu nu ma supar. Asa ca spor la comentat dar atentie…. nu aberati ca ma supar 😉
[ vazut si la Buddha]