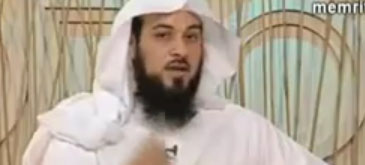 "Admonish them — once, twice, three times, four times, ten times," he advised. "If this doesn't help, refuse to share their beds."

And if that doesn't work? He asks.

"Beat them," one of the 3 responded.

"That's right," Al-'Arifi said.
Dr. Muhammad Al-'Arifi sfatuieste barbatii despre modalitatea cea mai apropiata prin care acestia isi pot bate nevestele. Ei bine, va dati seama ca pentru o tara araba, in special pentru un barbat arab, acest film e de pus in rama.
Oricum, nu recomand nimanui asa ceva, e lesne de inteles de ce.;) Culturi diferite, obiceiuri diferite….