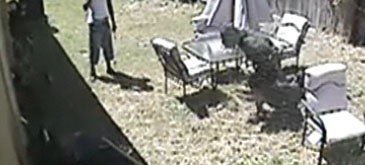 Police detectives have released security video showing 2 burglars caught in the act– with one of the men trying to break down a door with his body.
The 2 men spent about 15 minutes attempting to pry open the side door of a home in the 4000 block of 36th Avenue North in St. Petersburg.
When that didn't work, one of the burglars backed up to the fence, took a "football" stance and ran towa More..rd the door.
The video shows him bounce off the door and rolling around in what appears to be pain. But detectives said that didn't stop him.
The suspects then threw a brick through the window and went inside. But it set off an alarm and both men took off, police said.
They were last seen in a small red two-door car with a hood scoop and lower ground effects.
Ce te faci daca proprietarul nu este acasa iar tu ai ganduri cu apartamentul lui? Corect, spargi usa. Dar nu asa..