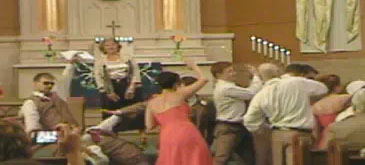 Watch it. You might cry. You may get up and dance. You may break into instantaneous giggle fits. You may even be slightly horrified. But while you're watching and tapping your feet, notice the look in the attendees' eyes. Hear their laughs. Look at the faces of the bride and everyone else involved. Feel what's happening in that room.
Hai sa vedem romani deschisi la minte, hai sa vedem o familie de romani dispusi sa iasa din tipar si sa fie in stare de asa ceva. Dupa cum bine zicea cineva:
This is the power of unexpected.
Nota 10!


[via and thx to Vasi]