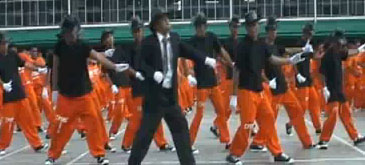 To all MJ Fans, Here's another Michael Jackson routine, our second since Thriller. Performed to the public on July 25, 2009
Cei 1500 de detinuti din Filipine nu sunt la prima isprava de acest gen. In 2007 au realizat si un remake pentru Thriller, clipul avand pana in prezent aproximativ 33 milioane vizionari pe youtube.
Astazi admiram ultimul lor proiect, "Dangerous",  finalul este remarcabil.