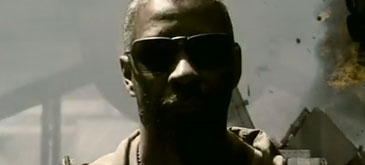 In The Book of Eli, Denzel Washington stars as a lone warrior named Eli, who fights his way across the desolate wasteland of near-future America to realize his destiny and deliver the knowledge that can bring civilization back from the brink of destruction and save the future of humanity.

Genre: Action and Adventure, Drama
Director: Allen Hughes, Albert Hughes
Cast: Denzel Washington, Gary Oldman, Mila Kunis, Ray Stevenson, Michael Gambon, Evan Jones, Jennifer Beals
Wow, Danzel Washington bate si rupe oase!
Imaginile din trailer cat si plotul mi-au adus aminte de "I am legend" (2007), film in care joaca Will Smith. Amandoua par a avea acelasi scenariu: singur impotriva tuturor.