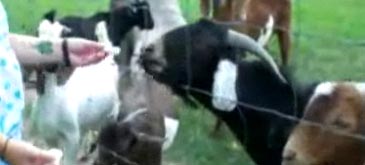 -Witch one is he ?
-He's the black one
-Whaaaa , look at his balls
And the goat wants to know "whaaaaaa, what, what, what, what?".
Eu v-am zis sa nu mai faceti misto de capre pentru ca va pot raspunde cu aceeasi moneda. Unele vorbesc, stiati?


Later edit: Raspunsul  caprei imi aduce aminte de celebrul ""What What (In the Butt)" al lui Samwell – link & link.
[via anzia]