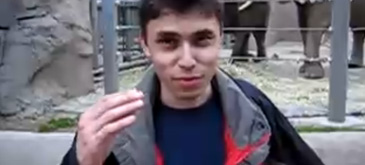 The first video on YouTube, uploaded at 8:27PM on Saturday April 23rd, 2005. The video was shot by Yakov Lapitsky at the San Diego Zoo.
In iulie 2006 compania a dezvăluit că peste 100 de milioane de videoclipuri sunt vizualizate zilnic, iar în iunie 2006 au fost vizualizate 2,5 miliarde. În mai 2006, 50.000 de videoclipuri erau adăugate zilnic, ajungându-se la 65.000 în iulie.  În ianuarie 2008 aproape 79 de milioane de utilizatori au vizualizat peste 3 miliarde de videoclipuri.
Primul film uploadat pe Youtube a fost cel de mai jos, foarte neprezentativ as putea spune, pe data de 23 Aprilie 2005. In patru ani au ajuns unde au ajuns, hehe!
YouTube a fost fondat de Chad Hurley, Steve Chen şi Jawed Karim, toţi trei fiind angajaţi ai PayPal. [..]. Numele domeniului "YouTube.com" a fost activat la 15 februarie 2005, iar situl web cu această adresă a fost creat pe parcursul următoarelor luni. Creatorii au oferit publicului o primă previzualizare a sitului în mai 2005, cu 5 luni înaintea lansării oficiale.
Iar si mai jos aveti cateva imagini din birourile Youtube fix inainte de a porni la drum.
Enjoy!




[mai multe detalii cititi pe wikipedia]