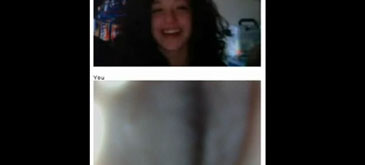 Inspired by the reaction videos for Goatse and 2G1C, I took a lighter approach and put Numa Numa Kid on Chatroulette. These are the reactions of his chat partners complete with spontaneous dancing.
Se pare ca nebunia asta cu Chatroulette a prins extrem de repede. In caz ca nu stiti cu ce se mananca instrumentul asta de socializare, mai jos aveti o scurta explicatie:
Chat Roulette se poate defini drept un serviciu de video-chat după principiul jocului la ruletă (adică la întâmplare, la noroc ): utilizatorii intră pe site, iar după iniţializarea conexiunii încep să caute parteneri de discuţii. Diferenţa faţă de celelalte site-uri de socializare este că nu te apuci să filtrezi după anumite detalii (sex, vârstă, localitate ş.a.m.d.) ci pur şi simplu laşi calculatorul să aleagă aleator un individ.
Acum ca stiti cu ce se mananca, veti intelege ca niste utilizatori mai sugubeti  incearca sa-si surprinda partenerii de chat cu diverse materiale servite prin webcam iar reactia acestora e inregistrata si pusa pe net:


Dar cel mai tare prank mi se pare cel cu ochiul. In caz ca nu l-ati vazut pana acum, il aveti mai jos:
Bonus: inca o reactie (dar fiti atenti ca asta e sadica rau, indepartati copiii din fata calculatorului ): la asta (NSFW) -1 Man 2 Fish.
Si inca un bonus (via Ovi Sirb):
Later update: Si cei de la Catavencu fac experimente pe ChatRoullete – link .