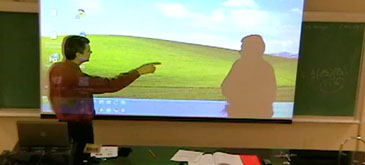 This is a trick I did for my Nature of Math class at Biola University this afternoon. I like experimenting with mixing live action with video.
Stiu ca 1 Aprilie a cam trecut insa efortul, simtul umorului, creativitatea  cat si imaginatia acestui profesor merita apreciate.


Si daca tot am deschis subiectul, aici aveti o lista cu cele mai tari pacaleli de 1 Aprilie (via mArS).