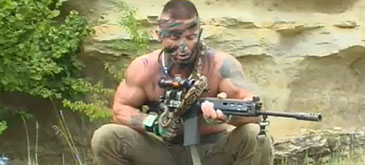 Just a fan video but the dude in the video got arrested few days ago, in Bosnia and after he uploaded the original video on youtube. Bosnian Police raided his house and found a large stash of weapons, ammo and explosives. The guy is a fan of Rambo movies and avid COD4 and MW2 player and a gun nut.
Imaginile de mai jos nu sunt din primul film de actiune bosniac  (va mai aduceti aminte de cel ugandez?) sau Rambo XII. Nu, nu! Tipul de mai jos – pe nume Nedzad Kličića –  a fost arestat in Bosnia zilele trecute dupa ce a uploadat filmul pe Youtube. Politistii bosniaci au ras de el cat au ras si dupa aceea l-au perchezitionat un pic pe micutul action-man. Ia ghiciti ce au gasit in casuta lui?
Sunt curios cine l-a ajutat la montaj si regie.


Va dati seama in ce lume traieste omul asta?