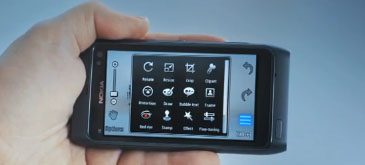 Discover the Nokia N8 – an amazing smartphone that lets you take stunning photos, capture true HD movies and play them all back on your HDTV! Nokia N8 is the first phone to have a large 12 Megapixel camera lens and Carl Zeiss Optics, for flawless photo quality. It also bosts a HD video recorder and HDMI out, so you can be the movie maker, and share movie time with family and friends on your HD TV. The brilliant touchscreen and sleek aluminium casing are just what you'd expect from such an impressive phone, and with apps, maps and more to delve into, the Nokia N8 is easily one of this year's most exciting phones.
O stire pentru pasionati. 🙂 Varful de gama al producatorului finalndez, noul Nokia N8 a fost lansat cu cateva zile in urma la  Londra si vine cu niste dotari absolut uimitoare:
O  camera web de 12 megapixeli si cu deja renumita tehnologia optica de la Carl Zeiss care permite filmari HD,
Blit cu Xenon – ce permite efectuarea unor fotografii de foarte buna calitate chiar si in conditii de luminozitate scazuta
Conexiune HDMI – ce permite vizualizarea fotografiilor, a filmelor, pe televizoarele si proiectoarele compatibile HDMI.
Tehnologie Dolby Digital Plus compatibila cu tehnologia Home Theatre ceea ce va insemna un sunet de inalta calitate inclusiv la redarea filmelor.
Inca un punct forte: navigatie gratuita pe viata prin OVI Maps.
Pretul in magazinele din Romania: ~ 2000 RON. Aveti mai jos o scurta prezentare a Editorului Photo cu care vine N8-le :


Si daca tot suntem la acest capitol, mai jos aveti si o scurta prezentare a  modelului Nokia C3 – smartphone: