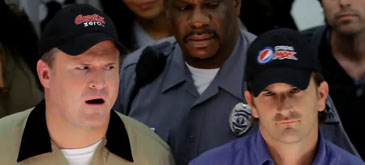 The Pepsi Max driver and the Coke Zero driver meet once again–this time at a supercenter. The battle for the #1 zero-calorie soda begins as each driver attempts to build the most impressive display. A special appearance from the legendary Snoop Dogg makes it clear which cola is king.
Uitandu-ma la a nu stiu cata reclama in care Pepsi se dueleaza cu Coca Cola, in minte imi vine doar un singur duel asemantor: Mac vs. PC (mai aveti si voi alte exemple?) dar si o intrebare: Nu cumva vorbim de concurenta neloiala in momentul cand tu prezinti un produs intr-un context in care iti permiti sa "arati lumii" ca produsul tau e mult mai bun decat rivalul tau numarul 1?
Update: Raspunsul la mica mea nedumerire l-am gasit pe Wikipedia :
Utilizarea publicității comparative este uneori riscantă, mai ales atunci când comparațiile nu sunt corecte și se transformă în denigrări la adresa mărcii rivale. Metoda respectivă este admisă în SUA și Marea Britanie, dar în unele țări europene ea este interzisă. În Belgia și Germania, publicitatea comparativă este considerată o formă de concurență neloială. Nici chiar relativ inofensiva reclamă la berea Carlsberg, purtând sloganul "Cea mai bună bere din lume", n-a putut fi lansată în aceste țări. În mod similar, reclama cu sloganul "Ne străduim din răsputeri" aparținând firmei Avis specializată în închirierea automobilelor, nu a fost admisă în Germania pentru că, deși nu s-a dat nici un nume, se presupunea că firma Hertz – numărul unu în domeniul respectiv – era singurul concurent serios al acesteia.
[via criserb]