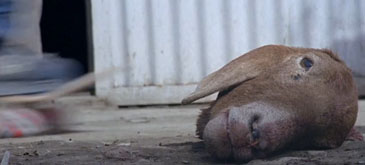 Skateistan: To Live And Skate Kabul is a beautifully shot film that
follows the lives of a group of young skateboarders in Afghanistan. Operating against the backdrop of war and bleak prospects, the Skateistan charity project is the world's first co-educational skateboarding school, where a team of international volunteers work with girls and boys between the ages of 5 and 17, an age group largely untouched by other aid programmes.

BY ORLANDO VON EINSIEDEL
Va vine sau nu sa credeti insa in Afganistan chiar exista si practicanti de sporturi – pot sa le numesc? – extreme. Mai jos aveti un scurt-metraj/documentar care ne prezinta viata unor skateri printre ruinele orasului Kabul.
[vazut si la titus]