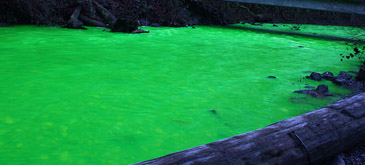 At around 3pm on December 29, 2010, the water at Goldstream Park in Victoria suddenly turned neon green. They did some testing, and apparently someone dumped something called "Fluorescein" in the water.
Acum nu stiu daca s-a vrut a fi o gluma sau nu insa aparent, cineva a varsat in apele raului Goldstream Park (Victoria, Canada) o substanta fluorescenta astfel incat totul arata exact ca in imaginile de mai jos. Autoritatile au intervenit imediat si au constatat ca din fericire, substanta in cauza nu s-a dovedit a fi daunatoare faunei sau speciilor de pesti ce traiesc in rau.
Totul s-a intamplat la sfarsitul anului trecut si imaginile filmate sunt spectaculoase (de basm?).
Si stirea: