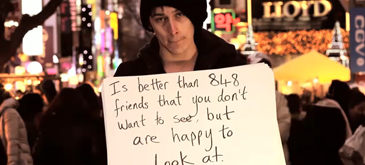 Written by Ross Gardiner
Produced by Sonny Side Films
http://www.thesonnyside.com/

Ross isn't a closet social pervert, but I am. Follow Sonny Side Films at http://www.facebook.com/sonnysidefilms

See more from Ross at : http://rossgardinersblog.wordpress.com/

Music: Thievery Corporation – Marching the Hate machines
Extended version produced and mastered by http://glowcastaudio.wordpress.com

Camera: Canon 7D
Edit Final Cut Pro
Si tu folosesti Facebook, asa-i? Deci putem spune despre tine ca socializezi, nu? Dar cum o faci? Corect, ca la carte? Esti sigur ca nimic din ceea ce faci nu e gresit?
Niste raspunsuri gasim in acest minunat scurt-metraj. Privirea de drogat a personajului principal m-a cam bagat in sperieti la inceput, cert este ca stie foarte bine materia ce o  preda.
Un mesaj ascuns (un indemn) este transmis de acest film, va las pe voi sa-l descoperiti. 🙂 Un hint aveti chiar in titlu.
[thx to Marius]