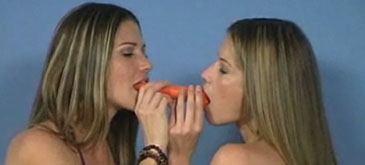 PETA's ad – which features a bevy of beauties who are powerless to resist the temptation of veggie love – was deemed too hot for the Super Bowl. NBC rejected the video because of concerns over "rubbing pelvic region with pumpkin," a woman "screwing herself with broccoli," and more!
Anul trecut, aceasta reclama PETA (People for Ethnical Treatment of Animals) nu a fost acceptata de catre cei de la NBC in grila Super Bowl – cu toate ca PETA oferise 3 milioane de dolari. Tocmai din aceasta cauza reclama a prins foarte bine pe Internet.
Eu nu inteleg ce-i rau in a filma cateva fete in costume de baie care se joaca cu niste castraveti sau morcovi. 😀 Si legat de mesajul propriu-zis al reclamei, cum poti afirma ca vegetarienii fac sex mai bine decat cei care mananca carne rosie? Cum? Energia e data de proteine iar cea mai buna sursa de proteine este carnea. Carnea rosie precum cea de oaie, miel, sau porc este plina de proteine, continand toti aminoacizii esentiali din abundenta. Tu daca bagi in tine doar brocolli, de unde energie?
"Veggie Love" was too hot for NBC, but the girls who didn't make the cut were too hot even for PETA! Still, these delicious hopeful models and their favorite crisp vegetables definitely piqued our interest and made us hungry for more.
Revenind la subiect, anul acesta cei de la PETA s-au gandit sa faca o campanie mica legata cumva de reclama de anul trecut. Detalii aveti aici.


Si reclama din 2009: