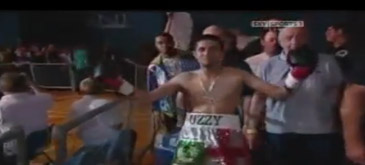 His entrance is an epic display of flamboyant douchebaggery. His exit is sweet, sweet poetic justice. POW! Right in the kisser!
la orice meci de box "exploziv" – cum le place televiziunilor sa le numeasca – fiecare boxer isi face intrarea in ring intr-un mod cat mai spectaculos posibil. Asa se poate spune si despre baietelul de mai jos (cel imbracat in pantalonii lu' Obelix) care debordeaza o nota un pic cam exagerata de optimism in drumul sau "spre glorie".
Nu acelasi lucru se poate spune si despre iesirea sa din ring. 😀 Sa-i uram cat mai multa sanatate si sa-i dam si-un sfat: la meciul urmator sa faca cumva dar sa se imbrace cu alti pantaloni, nu de alta dar sigur acestia au fost de vina pentru esec din moment ce cantareau mai mult decat intregul sau corp.
[flv]http://www.youtube.com/watch?v=eAv7dnF5qWY[/flv]
Instant karma! 😀