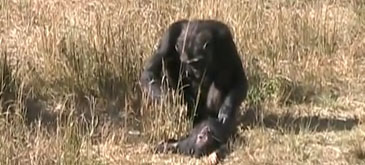 This video contains excerpts of the reaction of the mother chimpanzee to the body of her deceased infant. The video was recorded at Chimfunshi Wildlife Orphanage Trust in Zambia. A full report of this event is in press in the American Journal of Primatology (DOI: 10.1002/ajp.20927). This report was a collaborative effort between the Max Planck Institute, Chimfunshi, and Gonzaga University.
Cu 20 de ani in urma, un cimpanzeu grav ranit a fost dus la o ferma din Zambia. Asa si-a început activitatea centrul care este acum cel mai mare adapost pentru cimpanzei din lume. Cimpanzeii isi plang puii morti precum oamenii, este o descoperire facuta in urma unei inregistrari video realizate in Zambia.Un grup de cercetatori de la Institutul Max Planck pentru Psiholingvistica a analizat comportamentul unei femele cimpanzeu al carei pui in varsta de 16 luni a murit.
Am privit in tacere imaginile de mai jos, imagini care pur si simplu m-au fascinat.  Daca sunteti atenti la minutul 4:48, mama isi atinge fruntea apoi isi loveste de doua ori pieptul in dreptul inimii ca si cum isi ia la revedere de la cel mic.


[Mai multe detalii gasim pe dailymail.com]