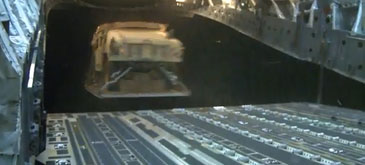 A C-17 Globemaster III drops four High Mobility Multipurpose Wheeled Vehicles (HMMWV or Humvee) out of the rear cargo ramp. The Humvees were "daisy-chained" in a heavy sequential drop configuration; they were moving at approximately 140 knots as they left the ramp.

For more information on the C-17 visit the AF fact sheet: http://bit.ly/cBG48n
Daca sunteti fani ai serialului Star Wars veti observa cateva similaritati intre film si scena de mai jos. Si chiar daca nu va plac filmele SF, spectacolul  produs este fascinant.
Avionul care transporta echipamentul militar este un Boeing C-17 Globemaster III, un avion de transport strategic greu construit de Boeing Integrated Defense Systems. Si, normal, tot ce vedeti in filmare apartine americanilor.