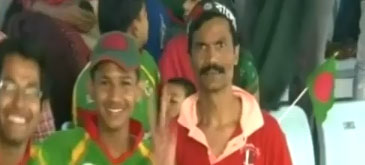 Possibly the creepiest fan ever not just in cricket!

Bangladesh vs West Indies Match, right before the ending ceremony, this guy came out of nowhere – freaked the hell out of me
Din cate inteleg, telespectatorii care vizionau partida in direct, s-au speriat de s-au cacat pe ei in momentul cand tipul asta si-a facut aparitia pe micul ecran. Acum, la rece, ce nu inteleg eu este cum reuseste omul nostru sa miste din mustata aia in asemenea hal. Sau poate ca mustata cu pricina se  simtea prinsa in corpul acestuia, sufera zilnic in tacere si acum – ca s-a ivit ocazia – incerca sa ne zica ceva?
Update: pun pariu ca poate din cauza spaimei nu ati reusit sa observati cum la secunda 0:20 tipul de langa el (cel cu sapca) se scobeste in nas si apoi se sterge pe fata! Mmmmmmmm….
[flv]http://www.youtube.com/watch?v=FkcJ2Qv3Nwc[/flv]
Sunetul de Yahoo Messenger ce se aude la un moment dat in background e de pe inregistrare asa ca nu va speriati. 🙂