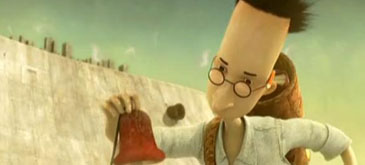 "The Lost Thing" is a 15 minute animated short film based on the highly acclaimed picture book by multi award winning author and illustrator, SHAUN TAN. A modern fable with a unique aesthetic, the story is at once ideosyncratic and universal in its appeal to all ages. The film marks the directorial debut of both Andrew Ruhemann & Shaun Tan.

Oscar nomination, Academy Awards (winners announced Feb 27, 2011).
AFI award, Australian Film Industry Award.
Annecy Crystal, Annecy Film Festival, France.
Best Short Film, Melbourne international Film Festival.
Best Australian Film at Flickerfest short film festival, Sydney.
Yoram Gross Animation Award, Sydney International Film Festival.

Based on Tan's 2002 kids book with the same name, the story sees a boy discover a strange creature at the beach while out collecting bottle tops. After spending the day with it, he realises it is lost and sets about finding a place where it belongs. While it's essentially a children's story, it will appeal to young and old alike.
Cu voia dumneavoastra, va prezint mai jos animatia de vineri:

[thx to Radu]