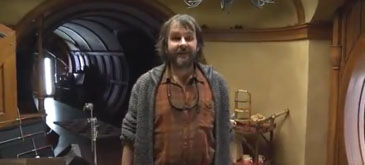 The Hobbit Start of Production Video from the Set

Peter Jackson has unveiled the very first 10-minute production video from behind-the-scenes of the set of The Hobbit. Check out the video as the director goes back to Bilbo Baggins' Bag End, and get an official look at the first few days of shooting. Also, revealed is your first glimpse of the key cast on the set, including Andy Serkis, Ian McKellen, Martin Freeman and Richard Taylor of Weta Workshop, in which you also get to see some stunt preparation as well as weapon and costume work. Take a look!
Stiu ca fanii LOTR de abia asteapta sa vada ce le-a mai pregatit Peter Jackson.  The Hobbit va fi compus din doua parti iar  prima parte va fi lansată la sfarsitul lu' 2012.
Romanul "The Hobbit" al lui J.R.R. Tolkien a fost scris in 1937, iar actiunea se petrece inaintea trilogiei. Filmul prezinta aventurile lui Bilbo Baggins in cautarea nepretuitei comori furate de balaurul Smaug. Micut si neajutorat, Bilbo se dovedeste curajos, infrunta cu succes pericolele aparute in cale, si fara sa isi dea seama pune mana pe Inelul puterii, obiectul erou din "Stapanul Inelelor".
Filmarile pentru "The Hobbit" au inceput in orasul Wellington din Noua Zeelanda, dupa o lunga serie de negocieri cu sindicatele actorilor neozeelandezi. Bugetul anuntat pentru aceasta productie cinematografica este de 500 de milioane de dolari, iar The Hobbit partea I va fi lansata in decembrie 2012, iar cea de-a doua parte in 2013.
Au fost anuntate cateva nume din distributia The Hobbit si ne bucuram sa revedem si multe fete cunoscute: Martin Freeman, Cate Blanchett, Orlando Bloom, Ken Stott, Sylvester McCoy, Mikael Persbrandt, Ian McKellen, Elijah Wood.
Iar ca backup avem asa:[via]