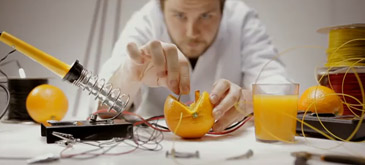 Tropicana France creates billboard powered entirely by oranges. Afterwards, all the oranges were collected and reused in a compost or to produce biogas.
Stiati ca acidul citric poate produce electricitate, nu? Ne demonstreaza asta cei de la Tropicana care au fabricat o reclama luminoasa alimentata in totalitate cu ajutorul portocalelor:
Update: piesa de pe fundal se numeste "Nervous Norvus – Sparks".

[thx to mariusica]