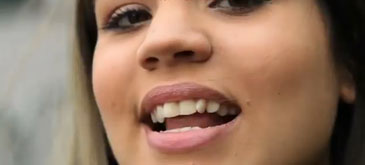 Sanziana Nicolae a impresionat-o pe Shakira cu vocea ei! Sanziana este singura persoana din afara staff-ului Shakirei care a fost admisa in cabina personala a artistei, inainte ca ea sa urce pe scena de la Bucuresti. Romanca in varsta de 17 ani s-a facut remarcata in urma cu doi ani, cand pe internet i-a fost confundata vocea cu cea a Shakirei.
Sanziana Nicolae e inscrisa la X Factor de la Antena 1.


Si mai jos piesa de care povestea Sanziana (cea pe care un utilizator Youtube a uploadat-o ca apartinand Shakirei).
Someone said that Shakira's representative reported that it is fake..but idc…who is the singer?…I really like the song..sounds alot like shakira!…maybe it is wateva…if anyone has HQ please give it 2 me!
Shakira – New Song – FIRE – (Exclusive):
[thx to liviug]