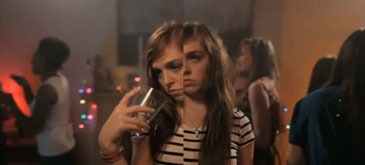 When the party gets going, it's all too easy to get carried away and not notice when a friend may be in trouble. Did you know that one in seven young people have been in an emergency situation as a result of a friend drinking too much alcohol, with half of these having to deal with someone who had passed out through drinking too much?
That's why we made this film. To show that one simple action: "The Pushover" could save a friend's life.
So if you're out partying with friends and someone falls unconscious, all you need to do is push them on their side, so they won't choke on their own vomit.
Sa zicem ca esti la un party cu prietenii tai si va distrati de minune iar ca de obicei, trebuie sa existe macar unul care sa se imbete de nu mai stie ce-i cu el. Stii ce ai de facut in caz ca acesta va lesina? Ia sa vedem!