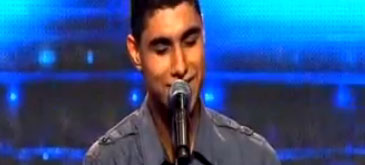 Emmanuel Kelly, a victim of chemical warfare survivor from Iraq, doesn't know how old he is but has managed to become a wonderful singer. Here, thanks to Channel 7, is his performance on The X Factor.

Emmanuel Kelly, este victimă a războiului din Iraq care alături de fratele lui, au avut norocul, totuşi, să fie salvaţi de o femeie din Australia. Povestea lor este cu adevărat emoţionantă.
Nu pot decat sa fiu de acord cu neuronu si sa va las sa urmariti imaginile, alte cuvinte sunt de prisos. Trebuie totusi sa adaug faptul ca pe langa povestea trista, Emmanuel are o voce de exceptie. O sa-l urmariti imediat interpretand celebra piesa "Imagine" a lui John Lennon.