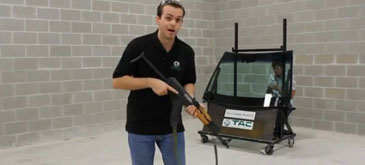 Texas Armoring Corporation (TAC), was tired of customers asking if his company's bullet-resistant glass in its armored cars actually resisted bullets. So the CEO asked his employee to shoot at him with an AK-47. It's loud, scary, dangerous, and completely awesome.

Salut! Numele meu este Vasile, acesta este AK47-le meu iar astazi am sa-mi impusc seful!
Mai jos asistati la cea mai buna promovare de produs pusa la cale de angajatii (impreuna cu seful) acestei companii. 🙂 Ce alta modalitate poate exista in a demonstra tuturor celor care au dubii ca nu merita sa se indoiasca de calitatea unui produs?!