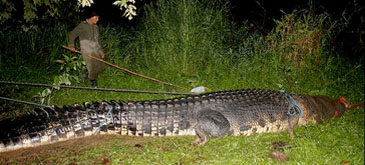 September 4 2011 – Villagers and veteran hunters have captured a one-ton saltwater crocodile which they plan to make the star of a planned ecotourism park in a southern Philippine town. About 100 people had to pull the crocodile, which weighs about 2,370 pounds (1,075 kilograms), from the creek to a clearing where a crane lifted it into a truck.

The crocodile, now named Lolong, swims in a shallow pond inside its temporary cage at the remote village of Consuelo . The crocodile, weighing 1,075 kg (2,370 lbs), was the biggest to be caught alive in the Philippines in recent years. Wildlife officials were trying to confirm whether it was the largest such catch in the world.
Trebuie sa afirm ca e cea mai mare bestie vazuta de mine vreodata. Va dati seama? 1075 kile. Wow!