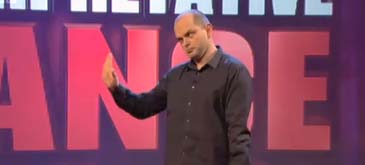 interpretative dance = a form of modern dance in which the dancer's movements depict an emotion or tell a story.
Nu stiu daca acest tip de show a fost importat in Romania insa daca vreo televiziune ar face acest lucru ar fi bine sa-l aduca si pe David Armand – un celebru comediant britanic.
Chiar va invit sa urmariti de ce este acesta in stare (neaparat cu sunet):
Si inca una: 'Hit Me Baby One More Time'
Mai multe interpretari puteti viziona aici.
[thx to Dana]