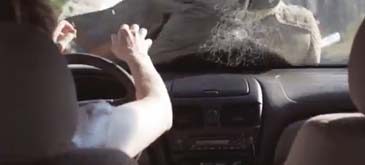 How important is it that you watch this Midnight Show PSA? Let us put it this way: millions of lives depend on it.

Directed & Edited by Peter Atencio ( http://twitter.com/atencio )
Written by Heather Anne Campbell ( http://twitter.com/heathercampbell )
Starring Heather Anne Campbell and James Pumphrey
Produced by Heather Anne Campbell and Michael Busch
Music by Philip Glass
Cinematography by Mike Karnell
Sa presupunem ca va aflati la volan, grabit, neatent la drum si dintr-o data un om sare in fata masinii voastre. Ce faceti intr-o astfel de situatie?