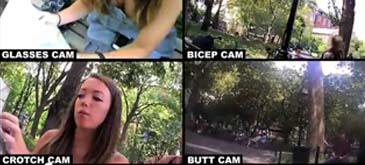 Anthony wants to find out which one of his body parts girls look at when they first meet him. Four hidden cameras are placed on his body to conduct this experiment: a crotch cam, a bicep cam, a butt cam, and a glasses cam (so the viewer can always see what/who Anthony is looking at). All videos are being recorded onto HD DVRs that are placed in Anthony's backpack.

Anthony walks around New York City and approached different girls, asking them for directions. The video is a montage of some of the girls who chose to take a peek at either his butt, his crotch, or his biceps.

What do YOU look at when you first meet a handsome young man? His chest, his legs, his face, his teeth?
Mai jos puteti admira un experiment pus la cale de catre Anthony, un tanar din New York care inarmat cu 4 camere ascunse (una instalata in paropierea fermoarului, una pe fund, una pe biceps iar alta in ochelari) ne demonstreaza ca femeile sunt totusi……..
Experimente asemanatoare am mai postat aici, aici sau aici. Iar mai jos (doar pentru fete) aveti de completat un sondaj.

Loading ...