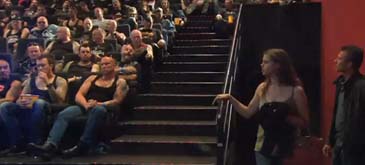 Carlsberg stunts in Belgium with 148 bikers in a movie theatre.
Some innocent couples want to take their seat, but the room is filled with not-so- friendly gentlemen… How will they react?
Se ia un grup de 148 de bikeri ("bad boys") si se umple cu ajutorul acestora o sala de cinematograf. Doua locuri raman libere….
Rezultatul acestui experiment este o excelenta reclama Carlsberg care a adunat deja mai bine de 5 milioane vizionari pe Youtube.