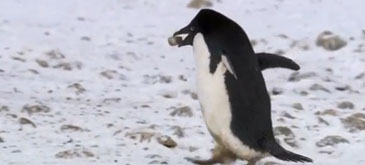 Frozen Planet takes you on the ultimate polar expedition. This landmark series brings to the screen the frozen wildernesses of the Arctic and Antarctic as you have never seen them before, and may never see them again…
[mai multe detalii despre serie pot fi gasite aici]
Cea de-a treia serie de documentare realizate de catre producatorii BBC (The Blue Planet (2001) & Planet Earth (2006)) se intinde de-a lungul a sapte episoade. Intr-unul din ele putem asista la secventa de mai jos, un pinguin simpatic isi face de lucru printre lucrurile celorlalti co-locatari de pe insula. Nu stiu daca o face cu buna stiinta sau doar din reflex, cert este ca e simpatic foc.


[via neuronu]