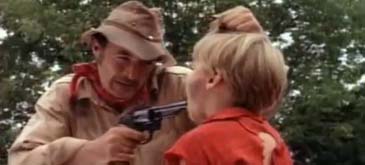 The film is one of Troma's most controversial titles due to its gruesome finale, a five-minute sequence where the townspeople brutally murder each of the cannibalistic children using firearms, pitchforks, and other assorted weapons.
Este din filmul `Beware: Children at Play` (1989).
P.S. Nu fiti atat de dezgustati, copiii aia erau zombie si isi meritau soarta (zmuhihihi?).
[thx to VillageIdiot]